One of my favorite activities in the summer is taking my kids to Prophetstown State Park. There is so much to do, and with it being in Tippecanoe County, it is so close. Every year we get the annual State Park Pass, $50 for the calendar year, so any trip to Prophetstown is affordable. Prophetstown State Park is the newest of Indiana's State Parks, established in 2004. It is located where the Tippecanoe River meets the Wabash River. Within the expansive park is a 1920s Farm, a replica of a Native American village, 900 acres of prairie, a water park and an RV campground.
My kids favorite thing to do the second we cross into Prophetstown is to visit the 1920s Farm. The house is a Sears Catalogue Home which is a museum of yesteryear, but with active kids, I must admit that I have only been in the house once. My kids want to see the animals and climb on the old farm equipment that are all located in the outbuilding surrounding the house. The horses and cows graze in the surrounding fields and are sometimes curious of people, but for the most part keep to themselves. The chickens and ducks are my kids favorite and no trip is complete without a visit to the store, located on the farm, where we buy chicken and duck eggs produced by those very birds. The newest addition to the farm is the pig pen, which my girls find repulsive and my boys can't get enough of.
Former residents of that area were the Shawnee American Indians. There is a replica Native American village that has several teepees and exhibits such as animal hides and pottery. Prophetstown is named after that Shawnee Native American Indian, Prophet, or Tenskwatawa, who was a political and religious leader for Native Americans. He lead the Battle of Tippecanoe, which took place in what is now Battleground, Indiana. The replica of the Native American village is most fun to visit on the weekends, when you can take a hay ride out to the village and around Prophetstown. Hayrides only run on the weekend.
The 900 acres of picturesque prairie land has paved trails going through it for bikers and hikers. There are multiple playgrounds throughout the park with great vistas from each one.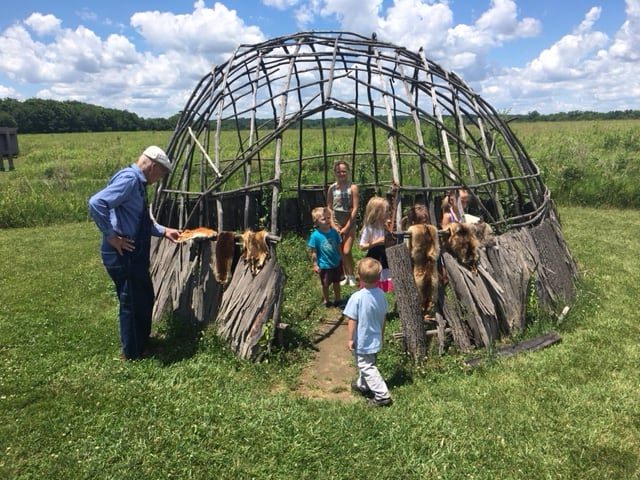 A $6 Million waterpark opened in 2013, having nothing to do with history or prairie land, but parents around the county were heard cheering because they had another warm weather activity with which to entertain the kids. Open Memorial Day through Labor Day, 11:00am-7:00pm, the cost is $5 per person, ages 3 and under are free. This aquatic center is a great place for summer birthday parties and family fun. It is clean, well maintained, and with a 30 foot waterslide, a lazy river, a zero entry pool and splashpad, there is fun for all ages. Be sure to bring money for the snack bar, because as soon as kids touch water, all they can think about it food.
The RV campground opened in 2005 and has 110 sites. It is a great place to spend the weekend or a week. The campsites are cut out of the prairie grass and provide little shade, so be aware if you are booking during the dog days of summer. With so much to do and see around Prophetstown State Park, it is a great place to vacation. The bathrooms and showers are clean and well kept, but with it being so close to home for us Tippecanoe County residents, we can even sneak home for a shower (not that I would ever do this). Be sure to book your campsite early in the year, because the sites fill up quickly.
I hope you purchase a $50 State Park Pass this year and explore the amazing state parks that Indiana has to offer. My favorite is Prophetstown because there is SO much to see, do, learn, and explore. If you time it right, you could have a car full of sleeping kids by the time you get home.